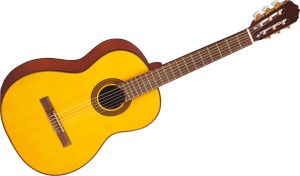 Takamine G124 Classical Guitar
MSRP: $299
Real price: $199
If you're in the market for an affordable classical guitar that won't disappoint you, the Takamine G124 is an excellent choice. The top is composed of a thin piece of spruce laid atop laminate to create that bright tone spruce is known for. The sides and back are composed of nato, which is comparable to much more expensive mahogany woods and helps bring on a wonderful midrange frequency most often sought after in a classic guitar. The meaty sound from these woods helps bring out the light and mellow sound of the nylon strings used for classical guitars. Thanks to this well-balanced tone and Takamine's excellent craftsmanship, the G124 might be our top pick for low-cost classical guitars.
The rosette featured is a simple classical design, and the fret board and nut are composed of rosewood, offering more of that bright tone to offset the nato sides and back. The tuners are gold and pearl, a common feature on classical guitars.
The Takamine G124 is based on the traditional design of Antonio Torres, a historically famous Spanish luthier that helped innovate the design of the guitar in the 19th century. A dual action truss rod is installed to make sure the neck doesn't warp or bow, making the strength of this guitar is remarkable. The guitar features a gloss finish for additional protection.
Pros and Cons
Pros:
Priced at a rate students that both beginners and parents can appreciate
Considering the low cost, it actually is impressive for seasoned players as well
Easy to play, easy to tune, and has that classical guitar look most players expect.
Cons:
The case is not included with the Takamine G124, but one can be bought. Unfortunately, the hard case Takamine recommends costs around $80 (see Takamine model number GC1118G).
The strings it comes with will likely be poor quality (see our post on choosing strings for guitar to help pick out a replacement set.)
Manufacturing imperfections have been reported on this guitar. Most notably, there may be a need to have the action and intonation adjusted. Even after these costs (make sure you don't get overcharged), you're still getting an excellent deal on a classical guitar that will last you as long as you take care of it.
While Takamine isn't exactly known for their classical guitars, they still offer a great value that's difficult to find with other brands and in the same price range. The Takamine G124 is ideal for the beginner or student, but you'll likely enjoy playing it long after you've mastered the six string.
Check out this similar products!

Takamine G440C NEX Review
Takamine G440C NEX MSRP: $359.00 Actual retail price: $250 The Takamine G440C NEX features that excellent NEX body design that...

Takamine EG569C Review
Takamine EG569C Thinline Ovangkol Acoustic/Electric Cutaway Guitar MSRP: $880 The price you'll actually pay: $440 The Takamine EG569C is...

Takamine EG523SC Review
Takamine EG523SC Jumbo Acoustic Electric Guitar MSRP: $999 Realistic price: $699 The Takamine EG523SC jumbo acoustic-electric guitar is one of...