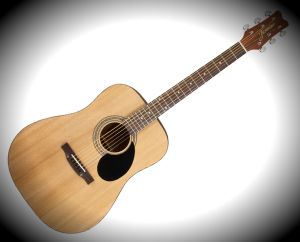 Jasmine by Takamine, just a beginner's guitar?
MSRP: $169.00
Actual retail price: $75-85
Takamine quality provided by the Jasmine brand
The Jasmine
brand is the beginner brand made by the infamously popular Takamine guitar company. While it's designed for a very distinct beginner sound, the Jasmine S35 by Takamine
offers more than enough quality for even seasoned players to enjoy this guitar. Ideal for both the beginner or the no-budget guitar player looking for a beater, the Jasmine S35
is surprisingly well-built with a spruce top and nato back and sides. Nato is a specialty wood gaining popularity as a tone wood to replace the extremely expensive mahogany often use for sides and backs. The fretboard is composed of rosewood for an excellent tone and sound. Despite the small price tag, the strings stay in tune and the sound is as big as more expensive guitars.
Pros
Incredibly cheap price without an incredible cheap build
Consistent, bright sound that will astound even seasoned players
Plenty of volume thanks to the great tone woods and dreadnaught design
Fun to play
Excellent as a travel or beater guitar
Cons
Comes out of the box with really cheap strings. For most guitar players, this isn't a problem, but for beginners (a huge part of the target market), changing the strings can be troublesome and adds to the cost of getting started.
Doesn't come with a case
Isn't very forgiving when it's slightly out of tune
No cutaway design means that access to the highest octaves is extremely limited.
It isn't only a beginner's guitar
While the design is mostly intended for beginners, the fact that the Jasmine S35
is a well-constructed guitar for less than a hundred dollars means that most guitar players can appreciate how well it will hold up when used as a travel guitar, practice guitar, or a guitar for simply jamming. As a gift, it is cheap enough that it's alright if the receiver doesn't play it a lot, but it's nice enough that the recipient can seriously play without many of the problems seen in most cheap guitars. While the guitar is built to withstand quite a bit, it definitely isn't an heirloom guitar, and it's easy to forgive yourself if you scruff or scratch it. For most players, it's hard to find anything wrong with the Jasmine S35
.
Pricing and popularity
There simply isn't a better brand new guitar for the price. The Jasmine S35
is the ultimate guitar for under $100. In fact, it's such a popular choice that it is almost always the top-selling guitar at Amazon

and several other retail websites. For a "budget guitar," this thing seriously rocks.
Check out this similar products!

Takamine G440C NEX Review
Takamine G440C NEX MSRP: $359.00 Actual retail price: $250 The Takamine G440C NEX features that excellent NEX body design that...

Takamine G124 Review
Takamine G124 Classical Guitar MSRP: $299 Real price: $199 If you're in the market for an affordable classical guitar that...

Takamine EG569C Review
Takamine EG569C Thinline Ovangkol Acoustic/Electric Cutaway Guitar MSRP: $880 The price you'll actually pay: $440 The Takamine EG569C is...