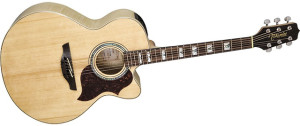 Takamine EG523SC Jumbo Acoustic Electric Guitar
MSRP: $999
Realistic price: $699
The Takamine EG523SC jumbo acoustic-electric guitar is one of Takamine's finest acoustic guitars in this price range. This jumbo is the largest guitar body built by Takamine, and this large build gives rich low tones and a ton of volume, and the cutaway makes it easy to pick and strum those higher octaves as well. The top is a solid piece of spruce (compared to "spruce" tops, which are only laminate built with a thin layer of spruce on top) . Spruce offers an excellent bright tone, and if taken care of properly, it only gets better as it continues to age. The sides and back are composed of flamed maple, adding both a distinctive look and overall durability to the instrument. The wood on the top, backs, and sides feature a natural gloss finish to give protection from wear and tear. The bridge and fret board are made of rosewood, offering extra-long sustain and added mid-range warmth, making it ideal for rhythm, finger picking, and everything else you can do with this gorgeous guitar.
Electronics
If the Takamine EG523SC isn't excellent enough played as an acoustic, plugging it in will bring even more life into it. The TK40 preamp is designed specifically for the G-series Takamine guitars, and provides excellent control right at your fingertips. The TK40 features a three-band EQ for highs, mids, and lows, and it features an EQ bypass button to quickly stop sending the EQ through to your sound output. This makes it easy to compare your EQ output with the original sound of the guitar. A "mid-contour" button is also available, which gives a predetermined EQ setting that is often considered ideal for the acoustic guitar.
The TK40 preamp also features a fully functioning, built-in tuner for quick tune ups between songs. It is fully chromatic, which makes it easy to go into any tuning you desire. Lastly, the notch filter allows for a very sharp cut to a frequency, which makes it easy to eliminate any pesky feedback caused by a single frequency range.
Value
This isn't one of Takamine's cheaper guitars, but it is constructed with solid spruce, flamed maple, and features extremely useful electronics. If you're looking for professional quality for live shows or recording, this is an excellent pick. A guitar with this much sound from another major company could easily cost three times this amount.
Check out this similar products!

Takamine G440C NEX Review
Takamine G440C NEX MSRP: $359.00 Actual retail price: $250 The Takamine G440C NEX features that excellent NEX body design that...

Takamine G124 Review
Takamine G124 Classical Guitar MSRP: $299 Real price: $199 If you're in the market for an affordable classical guitar that...

Takamine EG569C Review
Takamine EG569C Thinline Ovangkol Acoustic/Electric Cutaway Guitar MSRP: $880 The price you'll actually pay: $440 The Takamine EG569C is...