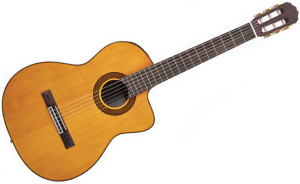 Takamine EG128SC Acoustic Electric Classical Guitar

Takamine G Series
MSRP: $650
Don't pay more than: $450
The Takamine EG128SC acoustic electric classical guitar is designed to serve both beginners and long-time players, and as such, it has been produced with high-quality in mind as well as being priced in a middle-of-the-road range to be affordable for most players. The cutaway design makes it easy to access the frets closest to the sound hole, and the gorgeous design makes this guitar difficult to resist picking up. The top of this guitar is solid spruce (compared to most "spruce" tops, which are really just laminate with just a bit of spruce on top to enhance the sound). The spruce offers a dynamic range, bright tone, and plenty of volume. The back and sides are rosewood, as are the fret board and nut. It's not very easy to find a classical guitar with a solid top, electronics, and Takamine quality build at this price point. It's even harder to find a guitar in this price range that you will love as much as much more expensive guitars from other makers.
Under the hood (electronics)
In addition to being an excellent classical guitar, the electronics in the Takamine EG128SC make it perfect for recording applications, live shows, and practicing with an amp. Takamine's well-famed under saddle pickup brings out the sound of strings with plenty of clarity. Equipped with a TP4T preamp, specifically designed for the G-series of Takamine guitars, features a three-band equalizer to boost or cut lows, mids, and highs with ease. Also included is a gain control knob, allowing you to set the amount of output and volume the preamp puts out.
A fully chromatic tuner is built into the preamp to make it quick and easy to get into tune or change tunings between songs. The tuner automatically turns off after 90 seconds, ensuring that the battery life of your preamp is sustained as long as possible. Additionally, when the battery is running low, the tuner will not function in order to help the preamp continue to produce output. There is a low battery light that will let you know when it's time to change the nine-volt required to power the preamp.
Excellent value
In short, the Takamine EG128SC offers an excellent value when compared to guitars of similar construction or price. Takamine quality for classical uses means that this guitar will last a long time, give excellent tones, and features those high-end electronics designed specifically for the G-series.
Read more guitar reviews before making purchase decision.
Check out this similar products!

Takamine G440C NEX Review
Takamine G440C NEX MSRP: $359.00 Actual retail price: $250 The Takamine G440C NEX features that excellent NEX body design that...

Takamine G124 Review
Takamine G124 Classical Guitar MSRP: $299 Real price: $199 If you're in the market for an affordable classical guitar that...

Takamine EG569C Review
Takamine EG569C Thinline Ovangkol Acoustic/Electric Cutaway Guitar MSRP: $880 The price you'll actually pay: $440 The Takamine EG569C is...